A Word From the Pastor
What We Believe
What Kind of Church We Are
Staff
Dear Friend, 
Ridge Road Baptist Church is a Bible-believing, independent Baptist Church located in rural Brewton, Alabama. We place a great deal of emphasis on personal discipleship, local evangelism, world-wide missions, and the home and family. We are committed to equipping believers to enjoy consistent, intimate fellowship with Jesus Christ, and thereby have a godly testimony that will support a vocal and effective witness. Because of this, the preaching and teaching of God's word is at the heart of all that we do. If you are looking for a Bible-believing church to attend we would like to invite you to join us for any of our services. At Ridge Road Baptist Church you will find a loving, family-friendly atmosphere with conservative Christian music, and old-fashioned Bible teaching and preaching. We appreciate you visiting us here on the world-wide-web. Please let us know if there is any way in which we can be a help to you and your family.
In Christ Jesus,
Pastor Lee Cadenhead
The Holy Scriptures
We believe in the absolute authority of the Holy Scriptures. We believe the 66 books of the Old and New Testament to be the complete and divine revelation of God to man. We believe that God not only inspired His words in the original manuscripts, but that He has also preserved those words. We believe the word of God to be perfectly preserved in the English-language in the Authorized (King James) Version. This Bible is our final authority in all matters (2 Tim 3:16-1, Ps 12:6-7).
The Godhead
We believe in one true God, the creator and sustainer of all things; that he is all powerful, and infinitely holy, eternally existent as the Father, the Word, and the Holy Ghost, each being equal in every divine perfection (Deut 6:4, 1 John 5:7).
The Lord Jesus Christ
We believe the Lord Jesus Christ to be the only begotten Son of God; God manifest in the flesh, born of a virgin, without sin; that He died upon the cross, rose again, and ascended to the Father, seated on the right hand of God, soon to return for His church and ultimately to set up His kingdom upon the earth; we believe Him to be the only Savior of the world (1 Tim 3:16, Isa 7:14, Heb 4:15, 1 Cor 15:3-4, Acts 1:9-11, John 14:6).
The Holy Spirit
We believe the Holy Spirit to be a personal being that convicts the world of sin, righteousness, and judgment, and is the agency of the new birth, baptizing every saved person in to the body of Christ, indwelling them, comforting them, and sealing them unto the day of redemption (John 3:6, 16:8, 1 Cor 12:13, John 14:16-17, Eph 4:30).
We believe that the Holy Spirit administers spiritual gifts to all saved people for the benefit of the entire body of Christ. We believe that the sign gifts (tongues, miracles, healing) ceased with the completion of the New Testament scriptures (1 Cor 12:4-7).
Salvation
We believe all men are lost apart from Christ, alienated from God in the fallen image of Adam. We believe salvation to be the free gift of God by grace through faith in the finished work of Jesus Christ, apart from all human merit. We believe the saved child of God is eternally secure in Jesus Christ (Rom 3:23-24, Eph 2:8-9, Rom 8:38-39).
We believe every believer is responsible before God to grow in grace and in the knowledge of our Lord and Savior Jesus Christ; this is a process that begins at conversion and is completed upon the redemption of the body; this process of sanctification requires the diligence of every individual believer (2 Pet 1:5-7, 3:18, Phil 1:6, Rom 8:19-23).
The Church
We believe the church is the body of Christ of which every believer is made a part by a spiritual baptism upon their receiving Christ as Savior. We believe every member of the body of Christ should gather together with a local church for the purpose of Biblical instruction and mutual ministry (1 Cor 12:27, Heb 10:25).
We believe the local church is to be made up solely of those who have been born-again and scripturally baptized. We believe the local church is to be autonomous and free from all external authority.
We believe the ordinances of the local church to be water baptism and the Lord's Supper. We believe water baptism to be a public testimony picturing a believers association with the death, burial, and resurrection of Jesus Christ by immersion, and that the Lord's Supper is a memorial of the sacrificial death of Christ to be observed by believers. We believe there is absolutely no saving virtue to these ordinances (Rom 6:1-4, 1 Cor 11:26).
The Great Commission
We believe it is the responsibility of every believer to proclaim the saving gospel of Jesus Christ to the lost world by all available means, including being a personal witness as well as financially supporting the missionary efforts of the church (Matt 28:19, Mark 16:19).
Separation
We believe every saved person ought to conduct their lives in a manner so as not to bring reproach upon their Savior, therefore believers ought to be separate from the outward and inner ways of the world, being holy in mind and body (2 Cor 6:14-18, 1 Thess 5:23).
The Return of Jesus Christ
We believe in the blessed hope, the return of Jesus Christ for His church prior to the great tribulation, after which Christ will return in power and glory with his saints to establish a literal Messianic kingdom upon planet earth lasting 1000 years. We believe that the nation of Israel will be restored at this time as the head of nations (Titus 2:13, Rev 19:11-16, 20:4, Rom 11:25-26, Deut 28:13).
The Judgment
We believe that the church will stand before the Judgment Seat of Christ following the rapture of the church, not to be judged for salvation, but for reward or loss. We believe that all those rejecting Jesus Christ will be judged at the Great White Throne Judgment following the Millennial reign of Christ and will be consigned finally and eternally to a literal lake of fire (2 Cor 5:10, Rev 20:11-15).
Authority of our Doctrinal Statement
Because we believe the foregoing doctrinal statement to be scripturally accurate, all literature used in the church and all teaching done within the church by its membership shall be in accordance with this statement.
However, this doctrinal statement is simply a guide regarding our basic beliefs and in no way exhausts the doctrinal standards and convictions of this church. The King James Bible is the sole and final authority of all that we believe.
What Kind of Church We Are
 What kind of church is Ridge Road Baptist Church? 
Ridge Road Baptist Church is a Bible-believing, independent Baptist church.
 -Bible-believing means that God's word is at the center of all that we stand for as a church. We believe the Bible is perfectly inspired and preserved and we strive to put it in to practice in every facet of our church.
 -Independent simply means that we are free of all ecclesiastical and denominational affiliations. We have fellowship with other churches of like faith, but when it comes to the establishing church policy, the selection of church leadership, or the support of missionaries, among other things, we are not guided by any outside authority, answering immediately to the headship of Jesus Christ.
 -Baptist means that we identify with many of the historical Baptist distinctives, such as the inerrancy of the Bible, the separation of the government from the affairs of the church, individual soul-liberty, the priesthood of the believer, a regenerate church membership, baptism by immersion, and eternal security. This also means that we are non-Charismatic. We believe in the ministry of the Holy Ghost, but at Ridge Road you will not encounter speaking with tongues, faith-healing, or other sensational practices commonly associated with the modern Charismatic movement.
What should I expect in the church services?
Worship at Ridge Road Baptist Church is joyful, conservative, interactive, and Bible-centered.
 -You will be greeted with a smile and a handshake by believers from a variety of walks of life. Ridge Road is a family of redeemed sinners that cherish fellowship around our mutual faith.
 -The music at Ridge Road is traditional, but lively. Congregational singing is at the center of the music service and we sing old-fashioned hymns right from the hymnal. We commonly have special music by church members singing Christ-honoring songs with live instruments.
 -Because of the congregational singing everyone gets to participate (we are not much for "performing"). It is not uncommon for us to have "meet and greet" to mill around and greet one another. At times we have scripture quotation or personal testimonies from those in attendance. And during the preaching you will commonly hear shouts of "Amen" or "That's right" as the saints bear witness to the truth as it is preached.
 -The preaching and teaching of the word of God is at the heart of virtually every worship service. Either our pastor or some other preacher is going to open the Bible and deliver a Bible-based message to challenge and encourage us to live for the Lord Jesus Christ.
What is available for the children?
 On Sunday mornings and Wednesday nights we have a fully staffed nursery for children three and under. Your child will be well-cared for by the other moms volunteering their services in the nursery. We have a children's ministry that we simply call "Kid's Club" that meets on Wednesday nights for children in pre-school through sixth grade. We also have various children and teen ministries and activities available throughout the year. With these things said, we want to see families in church together. This is why families remain together in the Sunday services and we even encourage parents to work on training small children to sit in church on Sunday nights. Ridge Road Baptist Church is a family of families with many young parents and small children.
What should I wear?
 We do not have a formal dress-code for our church services. You will encounter a variety of dress "styles" in any given church service. Our recommendation is that you dress neatly and modestly (we want to keep the attention on Jesus and not our wardrobe, or lack thereof). 
Mission Statement
 Here at Ridge Road Baptist Church we have developed a six-fold emphasis that guides the ministry of our church. These six objectives of summarized below:
1. Maturity – We are committed to helping individual believers grow spiritually in to mature followers of Christ. This is why the word of God is at the heart of all that we do (1 Peter 2:2). Central to this objective is the preaching and teaching that we receive from pulpit on a weekly basis. Additionally, we have one-on-one discipleship available as well as various ministries designed to encourage spiritual growth, such as Reformers Unanimous for those with addictions and Bright Lights for young girls.
2. Ministry – We are committed to ministering to the needs of others both within our own church as well as our community. There are ample opportunities to develop relationships with each other in the context of the church ministry so that we can benefit from one another's strengths and gifts. We have special ministries geared toward children, teens, and ladies with this in mind. We are also engaged in ministering the word of God to those outside of our own local assembly. We minister weekly in the local jail, nursing home, and across the radio airwaves on four radio stations.
3. Missions – We are committed to doing our part in getting the gospel of Jesus Christ "to every creature". We begin locally with our "Jerusalem" evangelizing our town through public ministries such as festivals, parades, and weekly street work. But we are also engaged in sending the gospel to the uttermost parts of the earth through world-wide missions support. We do "faith-promise missions" which allows us to send tens-of-thousands of dollars every year to Bible-believing missionaries around the world.
4. Marriage and Family – We are committed to equipping families to stay together and raise their children to honor the Lord. We are not here to compete with the home, but compliment and reinforce it. God has blessed us with a number of young families who have embraced the Biblical order for their homes with fathers and husbands in a role of loving leadership. We strive to encourage and equip families to have family Bible-reading and prayer, and raise their children in accordance with Bible principles.
5. Morals and Manners – We are committed to teaching young people good manners and moral character. In a society of rampant disrespect and sloppiness Christians should stand out as salt and light in their personal character. We try to reinforce parental training on manners and we encourage the development of character qualities such as respect, chivalry, deference, politeness, duty, and responsibility.
6. Music – We are committed to cultivating a love for conservative spiritual music. In a day when churches are rapidly defecting from traditional hymnody to "contemporary Christian music," we believe it is the wrong time to de-emphasize music, but rather to emphasize the right kind of music. This includes teaching "parts," encouraging young people to learn instruments, and keeping conservative congregational singing at the forefront of public worship
 Lee Cadenhead
Pastor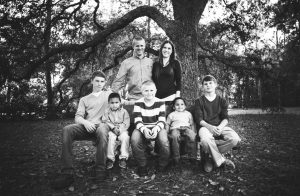 Pastor Lee Cadenhead came to Ridge Road Baptist Church in September of 2005. Bro. Lee was saved as a young boy and first sensed the call to preach while still in Elementary School. Bro. Lee spent some of his teenage years in "the far country" running from the Lord and God's call upon his life. In spite of these misspent years, "where sin did abound, grace did much more  abound" (Romans 5:20). He and Kelly were married in October of 2000, and through a series of gracious and providential events, both came to a place of repentance and submission to the will of God. The Lord has graciously placed their family in the full-time service of the Lord Jesus Christ. Brother Lee and Sister Kelly have five sons, Taylor, Noah, Owen, Xavier, and Kaiden. Bro. Lee is a committed student of God's word and loves to preach and teach the Bible. Sister Kelly is a devoted home school mom, children's Sunday School teacher, and operates a home business making children's garments. God has done a mighty work in the Cadenhead home and they have a desire to see the grace of God transform other families for His glory, just as God has done for them.